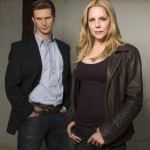 When I first heard about In Plain Sight, I thought 'Gee, another cop show. We don't have enough of those.'
The trick to good storytelling, however, is to find a new angle to present old material. In Plain Sight may not have dramatically relandscaped the cop whodunit angle, but the flowers are fresh enough I don't mind giving the show a chance.
Mary Shannon (Mary McCormack) is a U.S. Marshall in charge of working for the Witness Protection Program in Albuquerque, New Mexico. Season 2 opens with Mary recovering and on leave after enduring a kidnapping and near rape (reminds of me of Law & Order: SVU with Mariska Hargitay's brush with attempted rape in a female prison. No one can touch Mariska's level of acting, but Mary's performance in this episode was not shoddy).
Mary learns of a witness who has been shot in an apparent suicide. Shortly after her death, two of the witness's children are admitted to the hospital where it is discovered the women have been poisoned. Mary (not surprisingly) is taken off leave and allowed to work the case. All of this is sandwiched in between shots of Mary dealing with her wayward sister and her mom, whom is obsessed with tracking down Mary's father.
Overall, I enjoyed In Plain Sight. It's a show worth watching. The quality of acting and dialogue is encouraging. I enjoyed the chemistry between the actors. It may not be 'off the charts', but In Plain Sight has the promise to be good, strong, quality entertainment. 
In Plain Sight can be seen on USA Networks, Sundays at 10/9 Central.