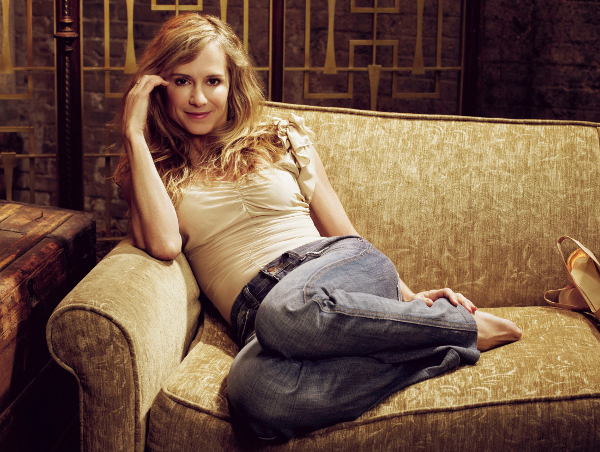 As much as I love Holly Hunter, I never did get into Saving Grace. However, I know some of my readers are fans and will be saddened by this news.
TNT will conclude the fascinating journey of Oklahoma City Police Det. Grace Hanadarko in 2010, when the network's groundbreaking original series SAVING GRACE will come to an end. SAVING GRACE will wrap up with a nine-episode run planned for next summer. The provocative drama stars Oscar® winner Holly Hunter (The Piano), who this year received the second of two consecutive Emmy® nominations for her no-holds-barred performance. Hunter also serves as executive producer of SAVING GRACE, along with show creator Nancy Miller (Any Day Now), Gary A. Randall (Any Day Now, Leaving L.A.) and Artie Mandelberg (Leaving L.A., Mr. & Mrs. Smith). For its current summer run, which ends Tuesday, Aug. 18, at 10 p.m. (ET/PT), the show has averaged more than 3.5 million viewers and ranks first in its time period among viewers, households, adults 25-54 and women 25-54.
"Since SAVING GRACE began in 2007, the series has both challenged and entertained viewers in ways few other shows on television ever dare," said Michael Wright, executive vice president, head of programming for TNT, TBS and Turner Classic Movies (TCM). "The show's continued success is thanks to the amazing talents of Holly Hunter and Nancy Miller, along with a tremendous ensemble cast and a highly skilled production team. They have taken us on a unique journey, and we look forward to seeing where it will ultimately lead."
In SAVING GRACE, which comes to TNT from Fox Television Studios, Hunter's Grace Hanadarko is a high-spirited detective who holds nothing back, whether on the job or in her personal life. The series follows as she investigates brutal crimes while also trying to find balance in her conflicted relationship with her partner, Ham (Kenneth Johnson – The Shield), whose grief she helped soothe after the death of his brother in Afghanistan. Grace also has to deal with her unconventional last-chance angel, Earl (Leon Rippy – Deadwood), whose interaction and occasional interference in her life is, according to him, all part of some master plan that even he doesn't fully understand.
In this summer's episodes, Earl has worked to create a connection between Grace and a young addict named Neely (Yaani King – The Prince & Me), whose life may eventually be in Grace's hands. While trying to figure out Earl's plans, Grace has also provided firm support for her best friend, criminalist Rhetta Rodriguez (Laura San Giacomo – Just Shoot Me), who is emotionally despondent over losing her family home and catching her husband in an affair.
Grace's circle also includes her admiring nephew, Clay (Dylan Minnette – Prison Break); her boss and friend, Kate Perry (Lorraine Toussaint – Any Day Now); and her fellow detectives, Butch Ada (Bailey Chase – Las Vegas) and Bobby Stillwater (Gregory Cruz – Criminal Minds).
For its first season in 2007, SAVING GRACE ranked as ad-supported cable's #1 new series of the year in delivery of viewers and households. Over its three seasons to date, the show has averaged 4.1 million viewers. This summer, SAVING GRACE has performed well among DVR users, scoring 33% growth among viewers and 34% growth among adults 25-54 when comparing Live to Live + 7 deliveries.
SAVING GRACE is one of six high-profile original dramas that have populated TNT's Monday-Wednesday lineup this summer. The six dramas – which include Monday's The Closer and Raising the Bar, Tuesday's HawthoRNe and Wednesday's Leverage and Dark Blue – are part of an aggressive TNT strategy to build a slate of quality original programming in primetime.
TNT, one of cable's top-rated networks, is television's destination for drama and home to such original series as the acclaimed and highly popular detective drama The Closer, starring Kyra Sedgwick; Saving Grace, starring Holly Hunter; Raising the Bar, with Mark-Paul Gosselaar, Gloria Reuben and Jane Kaczmarek; Leverage, starring Timothy Hutton; HawthoRNe, with Jada Pinkett Smith; and Dark Blue, starring Dylan McDermott. TNT also presents such powerful dramas as Bones, CSI: NY, Cold Case, Law & Order, Without a Trace, ER and Charmed; broadcast premiere movies; compelling primetime specials, such as the Screen Actors Guild Awards®; and championship sports coverage, including NASCAR and the NBA. TNT is available in high-definition.
Turner Broadcasting System, Inc., a Time Warner company, creates and programs branded news, entertainment, animation and young adult media environments on television and other platforms for consumers around the world.