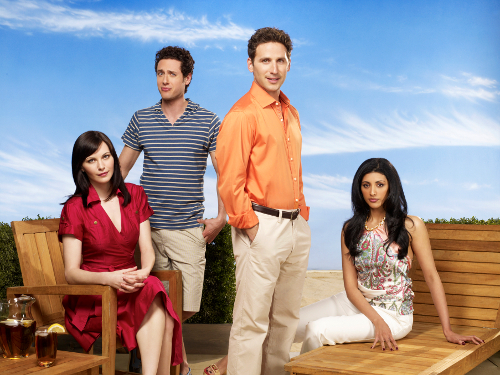 I've been a fan of Mark Feuerstein for a long time. I even pushed through the pilot of Good Morning, Miami, subjecting myself to 22 minutes of Ashley Williams, ((Those who know me will know my extreme antipathy for that doe-eyed, charmless bimbo who nearly ruined season one of How I Met Your Mother with her talent vacuum.)) because of his presence. But other than a handful of appearances on The West Wing, he hasn't had any roles meaty enough and exposed enough to take off. That might finally change.
In USA Network's newest series which premieres this Thursday, Feuerstein gets a show with the right balance of humor, drama, and color to fit his qualities. As Dr. Hank Lawson, Feuerstein finds himself bumrushed out of his position at a Level-1 trauma center when the wrong man dies on his watch. Blacklisted, ((Interesting. Both of USA's Thursday night protagonists have been blacklisted.)) unemployable, with debts piling up, Hank has few prospects. His brother Evan (Paulo Costanzo) drags him for a long Memorial Day weekend to the Hamptons where…
Well, he saves some lives, meets Campbell Scott (suspiciously mysterious and creepy as benefactor Boris,) and of course there's a girl. By the end of the extended premiere Hank will decide it's not so bad to be a concierge doctor to the rich and famous and move into Boris's guest house with his brother. At least for the summer.
Oh, and Christine Ebersole! The venn diagram of shows on which she's guested and shows I watch hasn't intersected in a really long time, so I've been deprived of her presence on my screen for years. Seeing her in the premiere made it that much better.
USA NETWORK PRESENTS A NEW ORIGINAL SERIES
"ROYAL PAINS" PREMIERING THURSDAY,
JUNE 4 AT 10/9c

Extended Premiere Presented with Limited Commercial Interruptions

"Casino Royale" Will Lead-in to Television Event

First Original Scripted Series from Universal Cable Productions for USA

He's not your typical small town doctor. Then again, the Hamptons is not your typical small town. USA will launch the 75-minute limited commercial premiere of ROYAL PAINS, the network's newest original scripted series, on Thursday, June 4 at 10/9c, followed by 11 weekly one-hour episodes. Creating a Thursday night block on USA, the series debut will immediately follow the Season 3 premiere of one of television's hottest shows, BURN NOTICE (in its new timeslot 9/8c). The network window premiere of the James Bond theatrical "Casino Royale" will lead-in to the night.

ROYAL PAINS centers on the young and talented doctor Hank Lawson (Mark Feuerstein – "What Women Want," "In Her Shoes," "Good Morning, Miami"), who loses everything fighting for the life of a patient. After one fateful and principled decision in the ER, he is fired by his hospital and blacklisted by the New York medical establishment. Months later, Hank's younger brother Evan (Paulo Costanzo – "Road Trip") convinces Hank to head out to the Hamptons for the summer season kick-off weekend. After they crash a party at a mega-mansion on the beach, Hank jumps into action when a guest requires medical attention that only he is able to diagnose. The next morning, word of the "hot new doctor in town" has already spread like wildfire and Hank's cell phone won't stop ringing. His career is revived as a "small-town" doctor who makes house calls – serving both the privileged community and the town's working-class residents.

Walking the line between doing well for himself and doing well for others is made easier when a determined beauty, Divya (Reshma Shetty – "30 Rock"), becomes his physician's assistant. Hank finds a new outlet for his true passion – helping those in need – when he teams with local hospital administrator Jill (Jill Flint – "Gossip Girl") to open a free clinic.

Guest appearances this season include Campbell Scott ("Six Degrees"), Tony-Award winner Christine Ebersole ("Grey Gardens"), Margaret Colin ("Gossip Girl") and Andrew McCarthy ("Lipstick Jungle").

Andrew Lenchewski ("UC: Undercover") wrote the pilot and serves as co-executive producer. The show is executive produced by Michael Rauch ("Love Monkey"), as well as Rich Frank ("Comanche Moon"), Paul Frank ("Comanche Moon") and Jeff Kwatinetz ("Big Momma's House") from Prospect Park. John P. Rogers ("Hide & Seek") also serves as co-executive producer. Jace Alexander (BURN NOTICE, "Warehouse 13") directed the pilot and will serve as co-executive producer on the series.  ROYAL PAINS films entirely in New York (Long Island and Brooklyn) and at locations around the Hamptons. ROYAL PAINS is the first original series from Universal Cable Productions for USA.

ROYAL PAINS will provide fans with an interactive experience like no other – offering an insider's look at the posh life of the affluents who summer in the Hamptons through usanetwork.com, Facebook and Twitter applications. The show's complementary online components will feature highly-immersive games and full episodes streaming, behind-the-scenes interviews with cast, producers and consultants, blogs and videos from the doctor's perspective, as well as engaging trivia and must-have applications that will allow fans to adopt the language and style of the Hamptons crowd.  The site will also be the portal to the ROYAL PAINS 'Hamptons Getaway' Sweepstakes, which will give fans the opportunity to win a trip for two to the Hamptons.

For photos of ROYAL PAINS, as well as all USA Network projects, please log on to the NBC Universal Media Village at http://www.nbcumv.com/.

For more information on ROYAL PAINS, including press kit materials, screeners, clips and photos, log on to the USA digital press site at http://www.usanetwork.com/press/royalpains.

USA Network is the #1 network in all of basic cable and is seen in 94 million U.S. homes. A division of NBC Universal, USA is the cable television leader in original series and is home to the best in blockbuster theatrical films, acquired television series and entertainment events. The award-winning USA website is located at http://www.usanetwork.com. Characters Welcome.

USA Network is a program service of NBC Universal Cable a division of NBC Universal, one of the world's leading media and entertainment companies in the development, production, and marketing of entertainment, news, and information to a global audience.