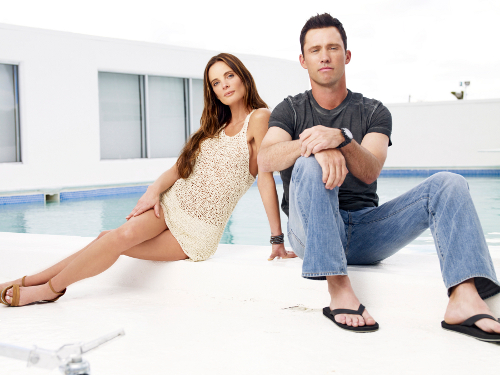 Michael Westen's had a rough couple of years, even if they have been in the sunny clime of Miami.
Burn Notice Season 3 premieres this Thursday, June 4, 2009 on USA Network in its new timeslot at 9p/8c.
Tracked by Feds, hassled by Bly, attacked by Arye Gross, and splattered in Toby Ziegler's blood, and that was just the first season. He's been tricked and threatened by Cylons and partnered with a psychotic stargating archeologist. But now he faces his biggest threat of all: a pretty cop with the tenacity of a Terminator. ((Or of an actress in a Terminator film.))
The new season opens where the last one left off, with Michael five miles offshore, swimming back to Miami. But the good news is…
Well the good news is that…uh…your status has changed. I mean, whatever magic they were working to keep you out of the police computers, they've stopped. Oh, you're back on the radar of foreign agencies, too.
The cops are hot for Michael, but none so much as Detective Michelle Paxson, played by Journeyman's Moon Bloodgood. While scenes between Jeffrey Donovan and Gabrielle Anwar continue to smolder, Donovan's scenes with Bloodgood crackle with a very different intensity. Bloodgood's choices are unusual and impressive; I like the way she seems to be playing at slightly cross purposes to the way the character has been written.
In a lot of ways, less has changed about the show this season than I'd expected. Michael and the team still help the helpless with the occasional inopportune interruption from a woman who has other plans for Michael. But they've done a better job raising the tension. As fun as last season was, on very few occasions did it feel like Carla was truly a threat to Michael or his friends and family. She wanted Michael around to work for her and that limited her options. Det. Paxson doesn't have those limitations.
It looks like it's going to be another hot summer on South Beach.
SEASON 3 OF USA NETWORK'S HIT SERIES
"BURN NOTICE" RETURNS TO HEAT UP THE SUMMER ON
THURSDAY, JUNE 4 IN ITS NEW TIMESLOT AT 9/8c

The #1 Show in All of Cable Returns with Stars Jeffrey Donovan, Gabrielle Anwar, Bruce Campbell and Sharon Gless

On Thursday, June 4, 2009, USA Network kicks off a hot summer of hits with the Season 3 premiere of BURN NOTICE in its new timeslot at 9p/8c followed by USA's newest original series, ROYAL PAINS at 10p/9c.  Launching the Thursday night block, the network window premiere of the James Bond hit theatrical "Casino Royale" will serve as the lead-in to the two shows.

BURN NOTICE, the sexy, action-packed #1 show of  the year, stars Jeffrey Donovan as Michael Westen, everyone's favorite blacklisted spy.  Stranded in sun-soaked Miami, he continues to use the only tools he has at his disposal: his wits, his charm, his special ops training, and his "friends" – Fiona (Gabrielle Anwar), a beautiful ex-IRA operative who also happens to be Michael's ex-girlfriend, Sam (Bruce Campbell), a washed-up military intelligence contact who works as Michael's sidekick, and his mother (Emmy Award-winner Sharon Gless), who Michael has spent most of his adult life trying to avoid.

This season opens with Michael emerging from the water, completely free from interference by the organization that burned him, but now under investigation by the police.   Michael faces a new foe in Miami Police Detective Michelle Paxson (recurring guest star Moon Bloodgood – "Terminator: Salvation"), who becomes obsessed with uncovering the truth about Michael. Also in the upcoming season we see Michael and team help a kidnapped child, take on Latin American thugs and deal with some familiar faces while Michael works to get back into the CIA.  Ben Shenkman ("Grey's Anatomy") also recurs as Strickler, a freelance spy broker who makes a living by contracting current and former spies to do work on the side.  This season we also see the return of some of the most popular characters from the first two seasons including Jay Karnes as weapons dealer Brennan, and Seth Peterson as Michael's brother, Nate.

BURN NOTICE was created, written and executive produced by Matt Nix ("Chasing Vermeer").  Mikkel Bondesen ("Catch That Kid") also serves as executive producer.  The series comes from Fox Television Studios and Fuse Entertainment.

The official BURN NOTICE online experience will be driven by the show's innovative and industry-leading brand integrated gaming franchise – COVERT Ops (www.burnnoticeops.com), which to-date has challenged over 700,000 players to test their skills at being online spies.  The new season and game-play promises to be just as compelling with arcade and casual game-play styles drawing in fans.  The new gaming experience will feature mini games that test players' advanced skills including weapons training, motorboat chases and dodging trackers.  Another new user experience driving enhanced fan engagement will be the BURN NOTICE on Location feature, which provides fans with an insider's look behind the scenes on location in Miami and interesting production tidbits that support the creation of the action-packed series. Back by demand will be key features, including "Ask a Spy" video Q&A hosted by the show's lead character Michael Westen and "See it Like a Spy," which challenges fans to build spy gadgets out of everyday items.

Usanetwork.com will also feature show trivia, full-episode streams and mobile and social applications.

For photos of BURN NOTICE, please log on to the NBC Universal Media Village at http://www.nbcumv.com/.

For more information on BURN NOTICE, including press kit materials, screeners, clips and photos, log on to the USA digital press site at http://www.usanetwork.com/press/burnnotice.

USA Network is the #1 network in all of basic cable and is seen in 94 million U.S. homes.  A division of NBC Universal, USA is the cable television leader in original series and is home to the best in blockbuster theatrical films, acquired television series and entertainment events. The award-winning USA website is located at http://www.usanetwork.com. Characters Welcome.

USA Network is a program service of NBC Universal Cable a division of NBC Universal, one of the world's leading media and entertainment companies in the development, production, and marketing of entertainment, news, and information to a global audience.