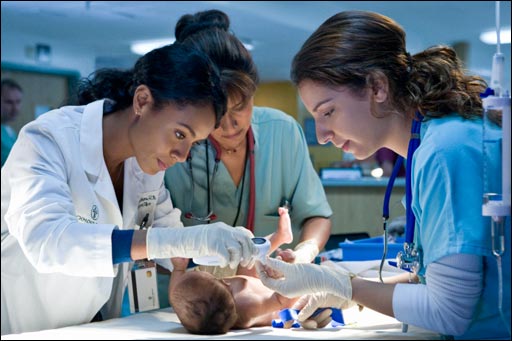 Just when I think I could give up on TV and walk away forever, TNT creates a new medical drama, Hawthorne. I was skeptical. Grey's lost its appeal once Isaiah Washington left and Izzie started sleeping with her ghost lover. ER lost me nearly a decade ago and Private Practice always has been a bit on the goofy side. Added to the mix is the fact that almost every great drama or comedy I became attached to in the last two years has been cancelled prematurely. I've not been willing to spend time caring about yet another new show, especially another medical drama.
But, Jada Pinkett Smith, as Christina Hawthorne, is a great, talented actress. Based on the pilot alone, I would say the show has strong promise. The characters and dialog feel real to me. Having grown up with a mom who spent her entire career in the operating room, I heard a lot about what goes on at a hospital. I know about the real struggles of nurses and surgical techs, the clashes between staff and doctors and power plays between other nurses. Many of my own friends were also nurses. What I can appreciate about Hawthorne is they accurately portray many of the gripes and joys I've heard from my own mom and friends. The dialog felt real and the characters believable.
Hawthorne also has plenty of drama. From dealing with the one year anniversary of her husbands death, trying to talk a suicidal patient, and friend, off the hospital ledge, to parenting her headstrong daughter all while struggling to keep the reins as Chief Nurse at Richmond Trinity Hospital, Christina has her hands full and struggles to find balance.
If I was disturbed by anything, I did feel they tried to throw too much drama into the show. What distracted me most was when police officers carry Christina away in handcuffs after she breaches hospital security and rather softly assaults a security guard in her attempt to keep a patient from jumping. Perhaps the guard would really call the cops. Perhaps they would really show up. But I couldn't help but think she wouldn't have been arrested in the real world in the middle of a trauma center as she just finished assisting with the efforts to save the jumper's life. I didn't buy that part. I kept wondering why no one was speaking up for her, why no one bothered to explain to the police officers the nature of the medical emergency behind her actions, why the guard didn't just request backup. Surely he couldn't be the lone guard on duty at a large hospital. Aside from that one scene, the show was very entertaining.
Joining Jada Pinkett Smith is Michael Vartan as Dr. Tom Wakefield, Chief of surgery, Suleka Mathew as Bobbie Jackson, fellow nurse and one of Christina's best friends, David Julian Hirsh as Ray Stein, a male nurse struggling to be accepted in a female-dominated profession, Christina Moore as Candy Sullivan, and Hannah Hodson as Camille, Christina's daughter. Joanna Cassidy from Six Feet Under, also makes a guest star appearance as Christina's mother-in-law and hospital board member.
Hawthorne comes to TNT from Sony Pictures Television in association with Pinkett Smith's 100% Womon Productions, John Masius Productions and Jamie Tarses' FanFare productions. John Masius created the series and wrote the pilot, which was directed and executive produced by Mikael Salomon of TNT's The Company.
Hawthorne premiered Tuesday, June 16th on TNT at 9 PM ET/PT.